Are you currently dreaming of a life without the crippling effects of painful periods?
Are you tired of planning your life around that-time-of-the-month?
Maybe during your periods you have been...
... calling into work because getting out of bed hurts too much
... canceling plans with friends because fitting into that cute pair of jeans just isn't going to happen
... running to the bathroom all day because you have bled through yet another outfit
... fighting with a loved one because controlling your emotions just feels impossible right now & they just don't get it
What if I told you that you could experience...
pain-free, (almost) forgettable periods each month
That include...
... stable energy throughout the day without feeling exhausted
... clear glowing skin that is left blemish free
... a flat tummy that doesn't make you feel bloated and gross
... sleep so deep you wake up ready to tackle the day
What if you could finally live pain-free with easy periods without...
... needing your heating pad 24/7
... the use of pain medications with terrible side effects
... invasive surgery
And that there is a better way that does not include ...
... starving yourself each day
... eating boring, flavorless meals
... feeling like you can't have certain food groups
... feeling like you have to just deal with the pain
... or that what you are feeling is normal
I know you have had doubts like...
... you don't know where to even begin
... you fear it won't work for you because your periods are so bad
... someone told you that your diet doesn't have anything to do with your hormones
... Or maybe you have tried everything already including...
... prescription pain medications
... different types of hormonal birth control
... restrictive diets
... surgery to remove endometrisosis or uterine polyps
And yet, nothing has even made a dent in your period problems.
Trust me...
... I have been there.
I know your pain.
There is a BETTER way.
Enter the Pain-Free Period Academy...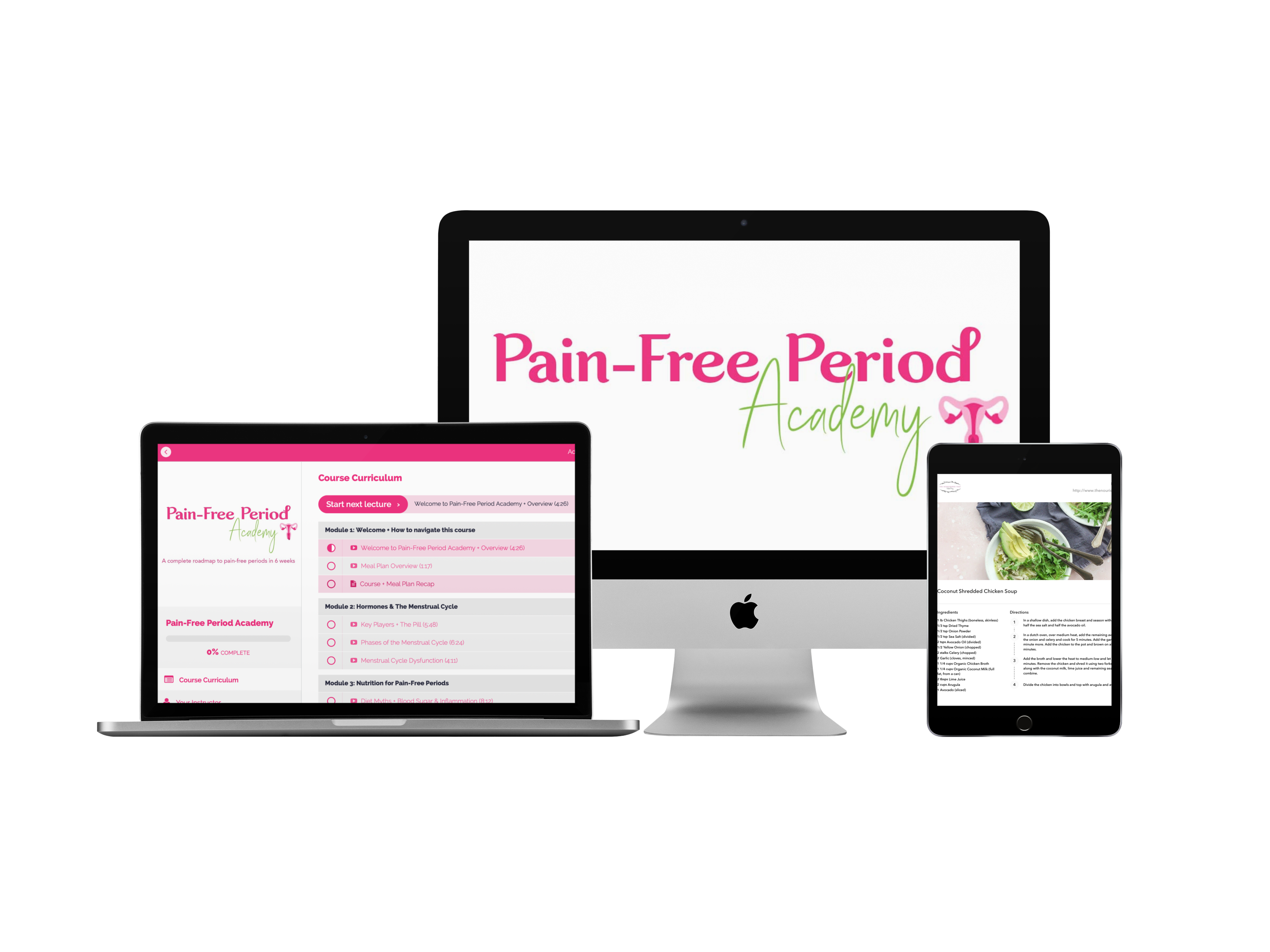 100% online, self-paced course with 6-weeks of hormone balancing meal plans!
In this self-paced online course, you'll learn..
How to eat for hormone balance and pain-free periods with 6-weeks of meal plans, food prep guides, ingredient swaps and shopping lists provided
The foundations of your hormones and how they work together for pain-less periods
The basics of cycle charting so you can begin looking at your cycle as a monthly report on your health
How to use supplements to support your new habits with products that will fuel your progress
Learn how to implement different lifestyle strategies into your life for a more complete healing experience
Feel confident ordering from menus at any restaurant while still following a hormone friendly way of eating
Connect with other women going through the same struggles & lean on each other for support and motivation
Finally feel like the confident, sexy, feminine goddess you always knew you were while knowing you control your health (it does not control you)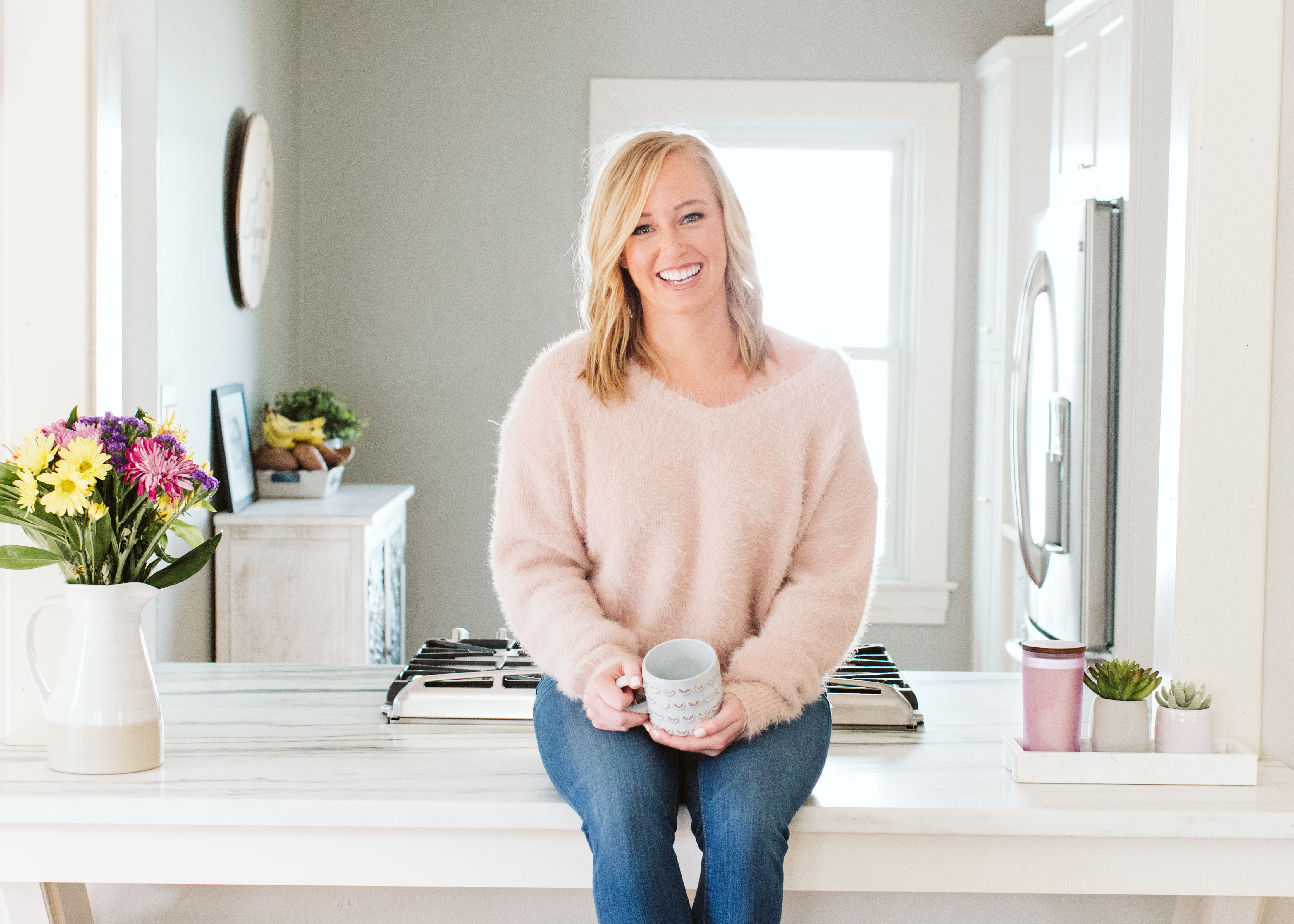 Hi, I'm English Goldsborough!
I am a Functional Nutritional Therapy Practitioner, Board Certified in Holistic Nutrition (candidate) & your instructor for Pain-Free Period Academy.
I created this course because I was tired of seeing women, just like you, suffer one week every month through pain, heavy bleeding, and misery. I knew there was a way to heal the body and break-free from period pain & this course was designed to teach you just that!
Period problems are not normal and it's time you demand better for yourself!
Here's a look at what's inside the course...
Pain-Free Period Academy is a self-paced, 100% online program with a complete roadmap to take you from..
painful & heavy periods
..to living your life vibrantly, pain-free and full of energy even during your monthly period.
Upon enrollment, you'll have immediate access to all course content including:
6-Weeks of Hormone Specific Meal Plans
Video Lessons
Helpful Worksheets/PDFs
1:1 Strategy Session with me (VIP only)
Cycle Charting Basics
Helpful Links/Resources
By the end of this course you will ..
Breeze through your periods with ease
Be able to schedule your life as you would like, without having to cancel plans due to pain
Feel confident in your own feminine skin be able to harness your innate female power
Finally be able to stop dreading your period and fearing its symptoms
This course is for:
Any female who is ready to take back the control on her health and stop living in pain
Any female who is tired of hearing "it's normal" and knows there is a better way
Any female ready to put in the work and see what life on the other side feels like
This course is NOT for:
Anyone who is not ready to make some serious diet and lifestyle changes for the betterment of her period health
Anyone looking for a quick fix or magic pill. This course requires work on your part and results will take commitment
Anyone who does not have access to a kitchen, as this plan requires cooking and preparing of meals
FAQs:
Q: How long will it take to complete this course?
A: This course is designed to take you 6 weeks to complete, if you complete one main module per week. You may choose to complete the course at your own pace however, taking a shorter or longer amount of time.
Q: How long will I have access to the course materials?
A: How does a lifetime sound? You will have access to the course and all of the resources for the lifetime of this course plus access to any updates.
Q: What is included with the VIP+ Plus supplement package? What do I receive?
A: SO MANY great things! You will receive multiple fatty acids to help build healthy hormones, collagen, a food based multi, a probiotic, & a box of relaxing delicious tea! These are all from high quality and trusted sources & shipped right to your door.
Q: What if I am already following another diet plan?
A: How you should proceed is dependent on how well that diet is working for you. If what you are currently doing is not working, putting that diet on hold and following the Pain-Free Period way of eating is recommended. This plan is designed with hormone balance in mind so giving this plan a chance is ideal.
Q: What if I have food allergies or intolerances?
A: While the meal plan is already removing many of the common food allergens and intolerances, should they happen to still include foods you are allergic to, there are suggestions for replacement ingredients as well as you having the freedom to choose swaps yourself based on preference. *Please do not consume foods you knowingly have reactions to, even if they are listed in the meal plans.
Q: What if I am on hormonal contraceptives? Will this program still help me?
A: YES! This program can absolutely still help you! Many of the issues that cause period problems are still present while on HBC, they just might not present themselves as strongly. Working through this program will still help you address the underlying causes of your issues and may actually help prepare your body should you happen to come off of HBC in the future. *Please consult your PCP and prescribing physician before making any medication changes.
Q: What if I have tried everything in the past including prescription pain medication and/or have a condition like PCOS or endometriosis?
A: This program can still help! One of the main goals of this program is to lessen inflammation in the body and to help the body restore balance. While this program is in no way a treatment plan, it does lay out some groundwork to allow your body to heal itself. Medications might address your symptoms, but they do not address the root cause. This program is designed to dig deep and start at the base layer of the dysfunction.
Q: What if I have had these period problems since I was younger and they have persisted for years?
A: Again, this program is likely to be a different approach than many other things you have tried. We are not working on symptom management, this course is about giving the body what it needs and allowing it to heal. We are addressing why the symptoms are presenting themselves and that involves a new approach than you are likely used to.
Q: What if my cycle is irregular or missing completely?
A: There is no reason you wouldn't be able to still follow this program and likely the meal plans outlined Pain-Free Period Academy will help your body restore it's natural hormone balance.
Q: What if I have lots of other symptoms during my cycle outside of just pain? Will this program still address those?
A: YES! This program is not designed to 'treat' your pain anyways, it is designed to help give the body what it needs to fight off inflammation and begin healing. Many symptoms can be related to the same issue and we are working with a holistic mindset, to support the body and all its' systems as one.
Q: How long will it take before I see changes?
A: While some women will begin to feel better within a few days, it can take longer for others. It is likely you did not come into this overnight so please allow your body and this program time to work.
Q: I purchased the VIP+ Plus enrollment, how will I receive my supplement package?
A: Upon enrollment as a VIP student you will recieve an email asking for you to confirm your shipping address. After you confirm your address, you will receive an order confirmation and another email when you package ships.
Q: I registered as a VIP student in the Pain Free Period Academy, how do I book my 1:1 sessions?
A: Upon enrollment you will receive an email with a link to book your 1:1 session(s).
Q: I just purchased this program and I change my mind. Can I get a refund?
A: Unfortunately no refunds are given currently, this program is about putting in the work and giving your body time to heal. This program works. If you are not sure you are ready to make the commitment to yourself and put in the work, please do not purchase the course yet.
Q: I feel like this program is going to be perfect for me, but I am just not sure about a few things. What should I do?
A: Email me! I would be more than happy to answer any questions you might have about Pain-Free Period Academy before you take the plunge! Email me at [email protected]